I've wanted to visit Italy since I was about twelve years old. A dream I never thought would happen and yet here I am. I've been trying all week to figure out how to describe Italy for this blog and I can honestly tell you I'm having trouble finding the right words. So how about I start with Naples.
NAPLES/NAPOLI
Before I got to Naples I was warned to hold on tight to my pocketbook and to watch out for pick pockets. So I did just that. It didn't take long for me to realize that Naples was a lot like Brooklyn and NYC. Since I was born and raised in Brooklyn I quickly figured out how to go about walking around the city. Yes, hold my pocketbook, but not always for dear life. Be on your guard without people knowing you are and all will be good.
I was told there would be graffiti in this city, but I figured I've seen that in Brooklyn so no big deal. Yeah, BIG deal! I've never seen so much graffiti before. Naples has Brooklyn beat by a landslide. I don't get why this city doesn't clean it up. I've also never seen so many concrete apartment buildings in my life. Everywhere you go there are plain concrete apartment buildings that are five or six stories high. There is nothing pretty about this city, but the old streets and markets are charming. However, I will tell you though the food is good and Naples has the best gelato I've ever had.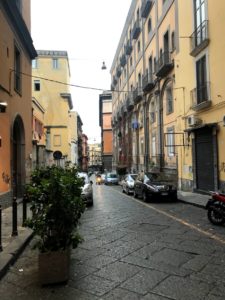 Vesuvius
My family and I took a tour bus up to Mount Vesuvius. It looked to me as if that bus company is ran by the Italian mafia, but I can't prove that. The drive up was pretty and a bit on the scary side. We were dropped off so we could walk the rest of the way up to the top which took about twenty-five minutes, on lava sand. It wasn't an easy walk, but we did it. Once we got to the top of Vesuvius, what a view! The volcano wasn't what I was expecting. In all honesty I'm not sure what I was expecting, but not a huge whole. Well not like that any way.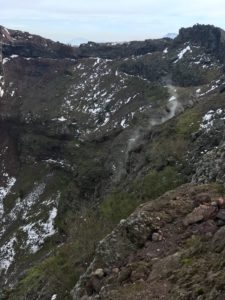 Amalfi Coast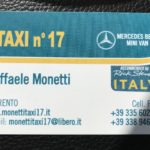 We had a guide recommended by Rick Steves--
Raphael Monetti
-- drive us along the Amalfi Coast. It rained on and off all day. The rain didn't matter, that part of Italy is beautiful and breathtaking whether it's a sunny day or raining. Seeing all the little towns built into the side of the mountains was quite the sight to say the least. Raphael was nice to chat with. He knows his history and he's a good driver. I would highly recommend him for that tour. We went in February when it's chilly to cold and raining, so most of the tourists places were closed. If you like the hot weather though and beaches I would suggest you go in July and August. Over all the Amalfi Coast was amazing and beautiful.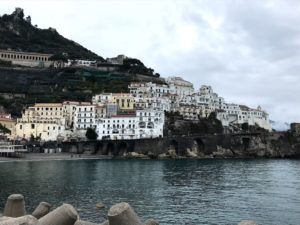 Pompeii
We had our own personal guide for the ancient city of Pompeii and I can tell you it was well worth it. Getting to see an ancient city that up until this point I had only seen movies of was unbelievable! Pompeii is so much bigger then I realized. It was amazing to walk around only a small portion of Pompeii. To walk along the streets, getting to use the big stone steps in order to cross the street, seeing the indentations from the wagon wheels so many centuries ago, standing right in the middle of the town square! The list goes on and on. We could have easily spent all day there and we still wouldn't have seen everything. The fact that this city still exists to this extent is completely unbelievable and so worth the trip.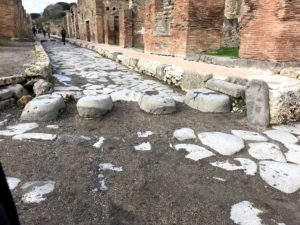 San Fele/Castelgrande
We rented a car to drive to San Fele so we could get official birth certificate of my great grandma Graziano. On the way there was a snowstorm that we managed to get stuck in. A Good Samaritan came to our rescue and helped put chains on our tires. By the time we got to San Fele we were tired and hungry and everything was pretty much closed. We stayed in a cute little house over night. The next morning we got the paperwork we needed and then drove through Castelgrande where my great grandpa Christiano was born. Both of these mountain towns were breathtaking in their own way. Getting to see and stay where my family is from was special to me. Something I never in a million years thought I would do.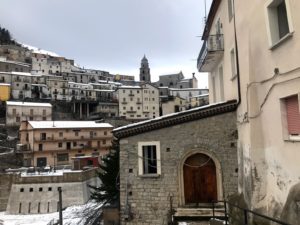 Rome/Roma
Rome was a nice place to visit. Getting to see the Coliseum and walk through it was pretty cool. The fact that, that place is still standing is amazing in and of itself. We got to see that famous fountain that is in so many movies and what a sight it was. We had the chance to see some other ancient ruins in that city as well which was pretty cool.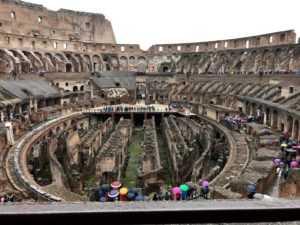 Vatican City
I have to say to my pleasant surprise the Vatican City was absolutely nothing like what I was expecting. I for some reason thought I would see priests and bishops all over the place which--I wasn't looking forward to. When I didn't see any I was relieved! And I have to say the Vatican is something to see.Like so many other sights it wowed me and I truly wasn't expecting that. The Sistine chapel was simply WOW. I went to Vatican City upon my husbands request for this trip and I am glad I agreed.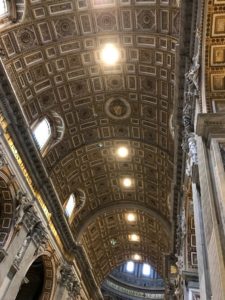 Good Things to Know
Even though the temperature is around 55 degrees in Italy, in February wearing a winter jacket is a good idea. It rains A LOT which makes it feel colder then what it really is.
Italy has the absolute best gelato I've ever had. You can easily find one or two different gelato shops on every block if not every other block. I found my favorite was this place in Naples called Fantasia and my favorite flavor was dark chocolate.
Italy has these caffe/coffee bars. They are pretty cool actually. You go in and you order an espresso or a Cafe Americana. You pay and then you drink it right there at the bar. Some places have a seating area with tables and chairs. You can sit for a while there while they serve you. It does cost more to sit, but after hours of walking around Italy it is well worth the price.
The public rest rooms in Italy are something else and not in a good way. In Naples we quickly learned to bring our own toilet tissue with us from the place we were staying in. For some reason most of the public rest rooms, including the cafes, restaurants and museums did not have toilet seats. Why? I couldn't tell you, but they don't. Sometimes they have toilet tissue. Sometimes they don't. As for being clean, a clean one is hard to come by as well. There were a couple of places that had everything BUT a toilet seat and they were clean. Thankfully the house we stayed in DID have a toilet seat.
KathleenSmith.org